ISO 45003 Psychological Health Guidelines – First Steps for Overcoming Implementation Barriers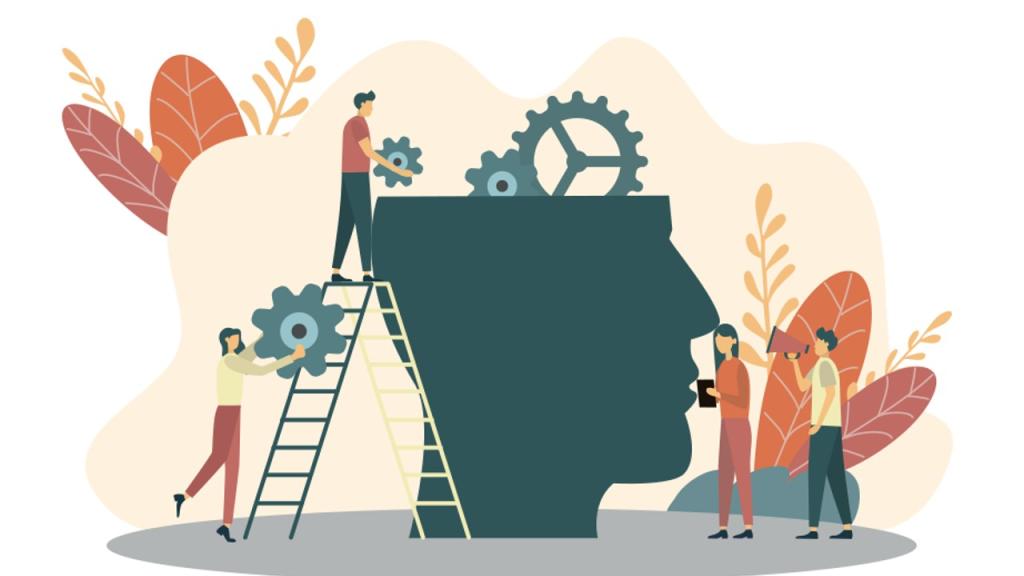 By Daniela Masters, Head of Health & Wellness Programmes, GEB, Q4 2022
We're all familiar with addressing safe work environments, trying to prevent slips, trips or falls. But what happens when workplace safety is examined through the lens of mental health risk rather than physical risk? When it comes to supporting the mental wellbeing of employees, there is quite a lot to consider.
The journey so far and core ideas of the ISO45003
In July 2021 the International Organisation for Standardisation (ISO) released a new international guideline for Psychological Health and Safety at Work (the ISO45003 Guidelines). The aim of the new standards is to address mental health in the workplace from a health and safety perspective. Physical risk management at work is commonly understood, and a regulatory requirement in most countries around the world. Psychological risks at work, however, are still less understood and not often addressed with the same rigor and focus as physical risks.  Even in countries where psychological risk assessments are required by law, such as the UK, Germany, Australia, and Canada, there are no clear guidelines or examples on how these risk assessments are to be conducted.  To address this critical issue, GEB actively works with multinational clients to help develop a holistic Health & Wellbeing Strategy that includes tools, services and programmes that support mental health.  Over the last 18 months, we have focused on educating multinational clients and intermediaries about the ISO45003 standards and how to apply them towards developing a mental health strategy. Through this work, we've discovered that a lot of education is still necessary to help organisations understand how the ISO standards and their risk management approach differ from typical mental health initiatives in the workplace.
Mental health management – a shared responsibility
The core of the ISO 45003 is the idea of a shared responsibility between employer and employee to look after employee mental health. It provides a blueprint for managing workplace mental health that has been created in collaboration with Health and Safety representatives from 75 countries. (Click here to access the free training on the ISO 45003 of our partner FlourishDx.)
Employees can manage stress and improve their resilience by learning coping strategies, accessing support services such as EAP counselling or online resources, using meditation apps, and improving their diet and exercise habits. These are self-managed, self-care initiatives. This means that while employers may offer these resources to employees, the responsibility for using the services rests with employees themselves.   For employers, eliminating organisational hazards that may lead to psychological harm is an essential component of managing mental health risk. Most of these hazards are rooted in organisational culture and structure. Examples of these hazards include: workload and working hours; autonomy and control over workload and prioritisation; managerial styles and support; the perception of fairness in the workplace; equality in compensation and benefits; change management and communication transparency.* If these cultural and organisational structures are poorly managed or perceived as not being in place, employees may be exposed to psychological risk factors. Addressing these risks requires very different mitigation initiatives to the ones that address employee responsibility around self-care. 
Barriers to aligning with the ISO standards
Over the last two years, mental health has been a focus for multinational organisations of all sizes. This is a very positive step and has pushed forward the agenda of mental health in the workplace significantly. Despite this progress however, it appears that many employers are primarily focused on initiatives related to self-care rather than addressing the organisational issues that also contribute to psychological hazards.
One of the main barriers in addressing organisation-driven psychological hazards is the lack of understanding that mental wellbeing requires a true risk management approach that is supported by top management. This requires resources, cultural change and cross-department collaboration between Human Resources, Work Health & Safety, Risk Managers, Benefit Managers and Pooling & Captive Managers. Quite often these departments do not work closely together and may suffer from communication and alignment differences, as well as questions around ownership of the topic. Another barrier to addressing these issues may be a short-term outlook on goals and results in the current global environment. Supporting employee physical and mental wellbeing through rewards, benefits, incentives, or even culture and process changes can have an associated cost, and the return on investment from such initiatives may not be immediately realised.  Because of this, wellbeing efforts can mistakenly be perceived as less valuable than other areas of investment the organisation may consider. 
Overcoming implementation challenges
Take a long-term view

: Taking a long-term view on culture change and the health and wellbeing of employees can have far-reaching returns for the organisation, and contribute to workplace productivity, employee satisfaction and retention. 

Integrate within ESG

: To provide focus on this important topic at the highest levels in an organisation, mental health risk management should become part of a company's ESG approach (environment, social and governance). In doing so, awareness is raised at the executive level and becomes a public commitment to the market.

Assess current strategy

: If an organisation does not have the basics in place, a first step is to compare themselves against best practices in a workplace mental health audit.  From here, organisations can work towards aligning with the ISO standards.

Develop a cross-functional approach to Health & Wellbeing:

Health & Wellbeing initiatives in the workplace are not solely the responsibility of Human Resource departments. Work Health & Safety, Benefit Managers, Diversity & Inclusion, Risk Managers, and the employees themselves must be involved and take part-ownership in initiatives.

Offer tools and resources:

Companies can consider offering wellbeing and self-care tools and resources that form part of an overall risk management strategy.  Resources may include Employee Assistance Programmes, Health Engagement Platforms, Telemedicine and Financial Wellbeing Advice and Support, etc.

Develop a clear communication strategy: Many of the above changes include culture change. This in turn requires a lot of "behind the scenes" work, not immediately apparent to employees. With this in mind, it becomes imperative to have an authentic and transparent internal communication strategy that supports and engages with employees, and responds to their feedback.
Why it matters
Aligning your organisation with the new ISO requirements isn't just a matter of ticking regulatory boxes but is instead a pathway towards real and tangible benefits. Research shows that engaged employees will deliver better results with lower turnover*.  Mid to longer-term goals like change of culture, improved employee retention and EVP will result in a more productive employee population, as well as cost savings over time*. In the current war for talent these are compelling arguments for changing from a focus only on the bottom line, to a broadened view that includes employee wellbeing, and particularly mental wellbeing.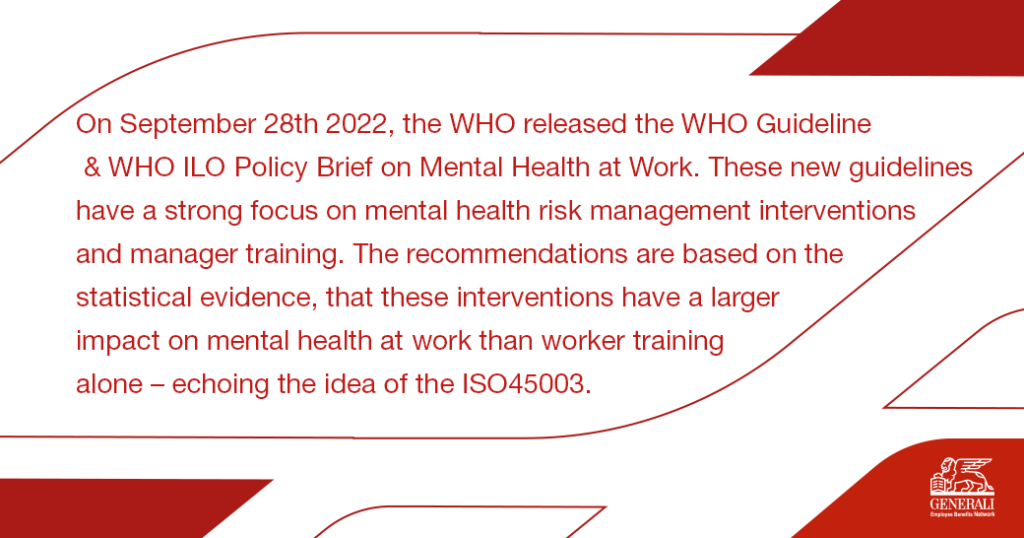 _____________________________________________________________________________________________
Click on the images below to view/download additional articles and announcements from GEB Health & Wellbeing.