Multinational pooling continues to be popular with international companies as part of an overall global benefits strategy. As a concept, it helps both coordinate and secure competitively priced local benefits programmes. 
It combines the performance of policies around the world into a single account, by balancing the potential losses in some countries with the positive experience in others, and when the pool is positive, the client can receive a dividend.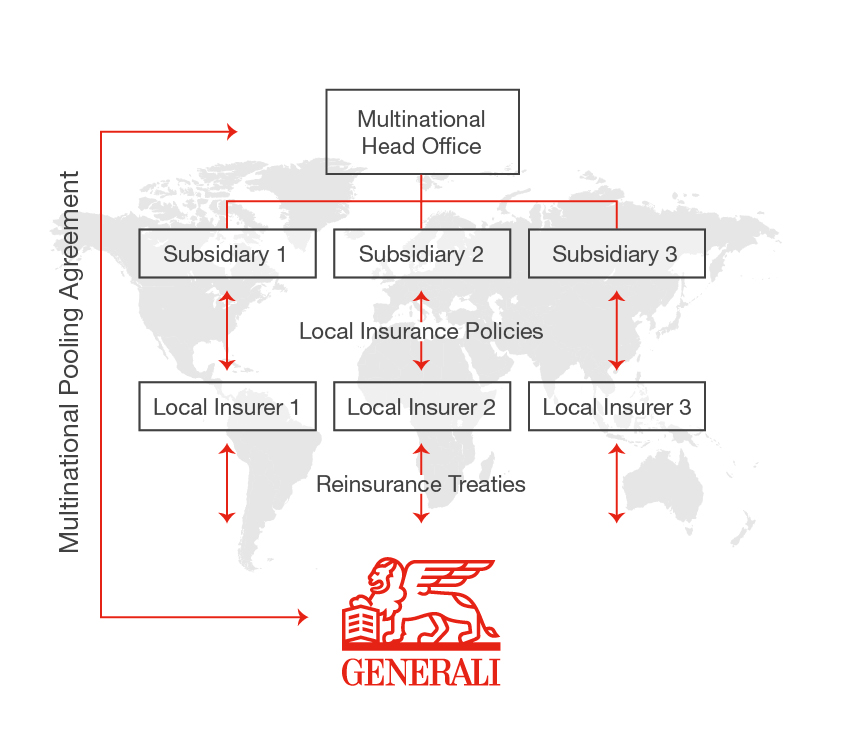 Advantages
The advantages of this approach include:
Cost savings in the form of an annual dividend
Reinforced governance around decision making
Centralised reporting on the performance of benefits programmes
Locally compliant policies as part of a global approach
Economies of scale and influence on local terms and conditions
The Generali LifeCycle pooling programme brings together the strength and simplicity of a Multiemployer pool for smaller groups, and  a Standalone pool for larger companies, which can be customised above certain thresholds.
In this way, Generali LifeCycle pool adapts to the client's size and risk profile over time, on the basis of premiums and countries included in the pool. 
Whether a client's journey causes them to experience a period of growth or contraction, they can enjoy continuous access to the benefits of  pooling, and without automatically being required to review and sign a new pooling agreement when circumstances change.
This helps provide stability over time so that the pool can remain an attractive option of subsidiaries to participate in.
ELIGIBLE COVERAGES
The Generali LifeCycle pool is designed to accomodate the full range of insured employee benefits that are typically offered to employees.
Coverages vary by local insurers as well as local country preferences, and fall into these categories:
Life and riders
Accident
Medical
Disability
MULTIEMPLOYER MODE
The Multiemployer pooling mode combines the experience of different employers to create a pool of contracts whose performance is more stable and predictable. It is ideally suited to protect the performance of smaller groups that are more susceptible to volatile claims, and provides access to a pool to those clients that are too small for a Standalone pooling arrangement. 
Clients in Multiemployer pool assume no risk, and thanks to its full stop loss protection, Generali absorbs any potential deficits so that they are not carried forward.  Each year of the Multiemployer pool starts over with a zero balance.  There are no time limits associated with the Multiemployer pool, which means clients have the flexibility to grow their pool at their own pace.
This concept also works extremely well for small and fast growing companies that are expanding internationally for the first time. The Multiemployer mode provides them with access to the same tools and resources that established international companies use.
For larger employers implementing a pool, the Multiemployer mode provides a protected environment while the pool is small and unbalanced. It avoids exposing the client's small pool to losses that they would be unlikely to recover from, and it helps ensure the future attractiveness of the pool to the home office and its subsidiaries.
As an added advantage, clients in Multiemployer mode earn a dividend by positive country, and not based on their overall balance.  This provides greater dividend potential because subsidiaries will not be penalised for negative experience in other countries.
STANDALONE MODE
The Standalone pool contains only the policies of a single multinational company and its own subsidiaries. This type of programme is intended for clients with a greater number of countries to manage.  It offers greater amounts of flexibility and caters to larger employers who typically need a tailored approach to risk management.
The Standalone pooling dividend is based on a client's own experience, and 100% of any positive balance can be paid out each year.  The Standalone pool is equipped with both individual excess of loss (pooling point) and stop loss protection.  The pooling agreement provides opportunities to customise these protection levels as part of a client's global benefits strategy and risk tolerance preferences.
The default option is to function on a losses carried forward basis. 
For clients wishing to further limit the impact of potential losses, a 3 year stop loss option is available upon request.
GENERALI LIFECYCLE REQUIREMENTS
Multiemployer pooling mode:
20,000 Euros in pooled premiums* and at least 2 countries
Premium requirements are fixed
A grace period allows the second country to be added within the second annual accounting period
Standalone pooling mode:
1 Million Euros in premiums** and 3 or more countries
* For premiums to be taken into consideration, they must be placed with insurers within the GEB Network, and exceed 2,000 Euros per country.





** For premiums to be taken into consideration, they must be placed with insurers within the GEB Network, and exceed 50,000 Euros per country.
AVAILABLE POOL CURRENCIES
Multiemployer pooling mode is available in EUR only
Standalone pooling modes can be in EUR, USD, GBP, CHF and JPY
SWITCHING CRITERIA
The pooling agreement makes it easy for clients by anticipating the possible transition between Multiemployer and Standalone pool types. 
Sometimes these changes can be planned as in the case of growth during a large pool implementation. Other times changes in pool composition can be unplanned as a result of a subsidiary that leaves the pool at local renewal, or the result of Merger and Acquisition activity. 
The client may not have control over these circumstances, yet the Generali LifeCycle will ensure that they will have continuous and easy access to a pooling program.
The transition to a Standalone pool takes place automatically on the basis of premium and country thresholds. 
The process is simplified without automatically requiring additional agreements or signatures.
During the setup of the Generali LifeCycle agreement, clients are asked to acknowledge their preferred protection levels should they reach the requirements for a Standalone pool. 
This can be revisited any time up to January 31st in the first year of a Standalone pool.  From them on, changes to Standalone pool protection levels can be made prior to the start of each calendar year.