Adapting to your pace, together
Flexible and adaptive global guidance
Driven by experience, we offer the well-established pooling solution as one of the most popular global employee benefits strategies with international companies.
Through reinsurance, the GEB's Lifecycle Pooling solution combines the performance of local and cross-border group policies around the world into a single profit-sharing account, to balance the positive and negative experiences of the pooled policies. In case of a positive pool experience, the client can receive a multinational pooling dividend.
The advantages of this approach include:
Secure competitively priced local benefits programmes 
Influence on local terms and conditions
Locally compliant policies as part of a global approach
Centralised global reporting on the performance of local benefits programmes
Health & Wellbeing Resource Centre full access and first-class medical claims dashboards 
24/7 access to data, reports and dashboards via the Client Data Centre
Active managed solution with a dedicated service team
Cost savings in the form of an annual dividend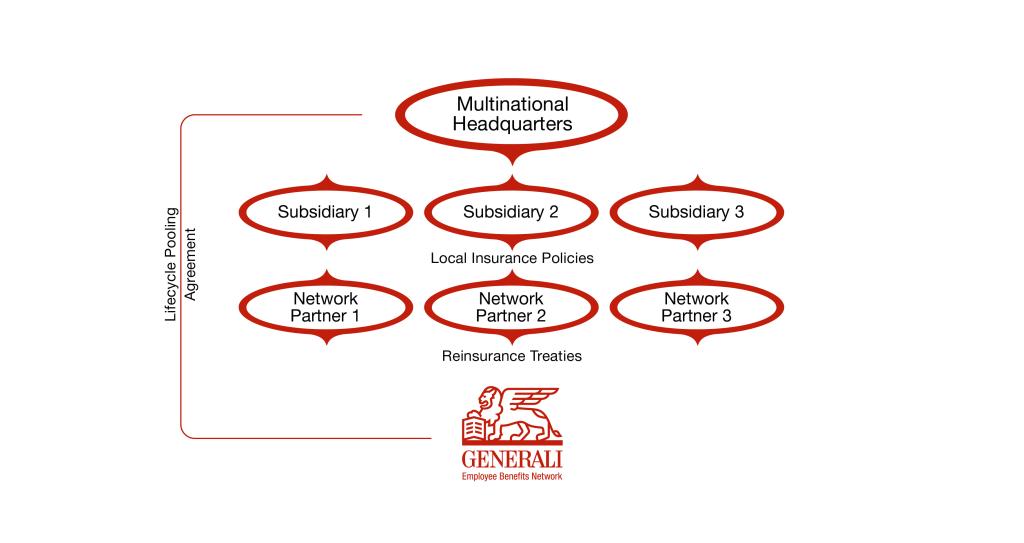 ELIGIBLE COVERAGES
The Generali Lifecycle pool is designed to accommodate the full range of insured group policies that are typically offered to employees:
Life 
Disability
Accident
Medical and Dental
Pension (only risk coverages)
Coverages vary by local country preferences as well as by local insurers.
Lifecycle Pooling solution: Multiemployer vs. Standalone pooling modes

Our Lifecycle Pooling solution brings together in one multinational pooling agreement the strength and simplicity of two modes: a Multiemployer pooling mode for smaller companies and a Standalone pooling mode for larger companies.
Whether a client's journey experiences a period of growth or contraction, they can enjoy continuous access to the benefits of pooling without reviewing and signing a new pooling agreement when circumstances change.

Multiemployer pooling mode

The Multiemployer pooling mode combines the experiences of various companies to create a pool of contracts whose performance is more stable and predictable. It is ideally suited to protecting the performance of smaller groups that are more susceptible to volatile claims, and it provides pool access to clients that do not yet meet the minimum requirement for a Standalone arrangement.

Clients in Multiemployer pooling mode have full stop-loss protection, where GEB absorbs any potential deficits so that they are not carried forward. Each year of the Multiemployer pool starts over without any losses carried forward. There are no time limits associated with the Multiemployer pool, which means clients have the flexibility to grow their pool at their own pace.

The Multiemployer pooling mode provides a protected environment while the pool is small and unbalanced. It avoids exposing the client's small pool to losses that it would be unlikely to recover from, and it helps ensure the future attractiveness of the pool to the headquarters and its subsidiaries.

As an added advantage, clients in the Multiemployer pooling mode earn a dividend for each country that has a positive employee benefits balance, not on their overall pooled employee benefits balance. 
Standalone pooling mode

The Standalone pooling mode contains only the policies of a single multinational company and its own subsidiaries. This type of programme is intended for clients with a greater number of countries to manage, offering greater flexibility and it caters to larger employers who typically need a tailored approach to risk management.

The Standalone pooling dividend is based on a client's own experience. After deducting any previous year's losses carried forward, 100% of any positive balance can be paid out. The Standalone pool is equipped with two types of protection: individual excess of loss (pooling point) and stop-loss. 

Depending on the number of lives included in the Lifecycle Pooling solution, the Standalone pooling agreement provides opportunities to customise these protection levels as part of a client's global benefits strategy and risk preferences.

For clients who want to further limit the effects of potential losses, a three-year stop-loss option may be available, depending on the number of lives included in the international programme.
Switching criteria between Multiemployer and Standalone pooling modes

At the end of the first year of the pooling contract, a client will benefit from the Standalone pooling mode if its portfolio of employee benefits contracts included in the pooling portfolio fulfils the Standalone conditions. If a client in Standalone pooling mode does not meet the above thresholds, it will automatically move to Multiemployer pooling mode.
 
Minimum requirements

Lifecycle Pooling solution in Multiemployer pooling mode:
EUR 20,000  in pooled premiums* and at least two countries
Minimum eligible coverage premium relates to at least two countries or one country during the first experience year
Lifecycle Pooling solution in Standalone pooling mode:
EUR 1,000,000 in pooled premiums** and at least three countries
The pooled premium will be measured at the end of the experience year
* For premiums to be taken into consideration, they must be placed with GEB Network partners and exceed 2,000 Euros per country.
** For premiums to be taken into consideration, they must be placed with GEB Network partners and exceed 50,000 Euros per country.
 
Available currencies
The Lifecycle Pooling solution in Multiemployer pooling mode is available in EUR currency only, while in the Standalone pooling mode the solution can be set up also in CHF, GBP and USD currencies.
Speak to our teams
Get in touch today to discuss your business's insurance needs. For further information, please contact our Regional Offices or use our online forms.
Get in touch today to discuss your business's insurance needs. For further information, please contact our Regional Offices or click below to use our online forms.