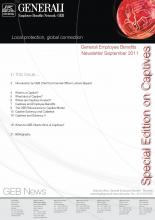 Read the entire newsletter
Downloadable version:
Pdf
Generali Employee Benefits is pleased to present you the first Special Edition of GEB News entirely dedicated to Captives.
In this issue:
Introduction by GEB Chief Commercial Officer Ludovic Bayard
What is a Captive?
What kind of Captive?
Where are Captives located?
Captives and Employee Benefits
The GEB Reinsurance to Captive Model
Captive Solvency and Collateral
Captives and Solvency II
What do GEB Clients think of Captives?