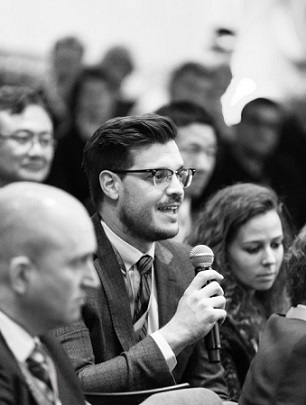 Exchange of best practice and experiences is essential to foster mutual learning and enhance our understanding of challenges ahead. We would like to particularly thank the speakers of our break-out sessions for sharing their expertise with GEB Forum attendees.
In this article we collect insight shared during the sessions on main trends that are reshaping the future of employee benefits.
What is the impact of data analytics and digitisation on managing employee benefits?
Big Data is broadening the horizon of the insurance industry and opening up new opportunities to cater to employees.
Only few years ago our approach to data was mainly focused on financial reporting, today it is all about prevention. The insurance role is shifting from loss & refund to proactive risk management and preventive services.
Among the main expectations that emerge from the market:
Simplification: Providers are called to help simplify administration and reduce complexity
New products: Privileged access to data enables to improve existing products and develop new products and services
Privacy: Insurance providers are expected to act as reliable and trusted partner in putting privacy and confidentiality at the core of their business.
What is the impact of employee benefits digitisation on HR strategies?
Better administration via: automatized processes; increased visibility and understanding which translate in better decision-making; and stronger evaluation which results in opportunities for improvement
New employee experience with more frequent contacts and real time support: employees are online and they expect to receive access anytime and anywhere to relevant information and assistance
New products to formulate competitive benefits offering that add value to a company's reward proposition. Examples include: wellness programmes, voluntary benefits and flexible benefits for different generations
A consistent strategy that creates value not only in terms of significant cost savings but also for the not-monetary return on investment in terms of appreciation, engagement and retention.
Digitisation still needs to be combined with best in class personal advice when it is about managing people.
Do benefits contribute to the company's brand?
Benefits become an integral part in the company's identity and culture, and contribute to drive higher engagement and trust from employees
Making employees feel they are taken care of lead companies to adopt a holistic approach to their wellbeing, in and out of the office space
Employers engage with a wider range of needs including healthy food, parenting support and work-life balance.
Are top employers right in investing in their culture? See neuroscience answer in our interview with keynote speaker Etienne van der Walt.
Data-driven decisions: The case for wellness
According to the United Nations International Labour Organisation (ILO): 4% of the world's annual GDP is lost as a consequence of occupational diseases and accidents (about €556 billion for Europe)
Demographic trends and the spread of chronic diseases challenge employers worldwide
Stress, lack of physical activity and obesity are top workforce issues globally
Our workforce is ageing: we need to sustainably ensure longer and productive working lives while tackling rising health costs
Employers are looking into ways to support a healthier workforce, driving a lower demand for care and increasing productivity and engagement
Actionable data can make a difference: by correctly identifying cost drivers in a specific employee population, employers can identify targeted initiatives to mitigate health risks and improve the wellbeing of their employees.