Mindfulness is an ancient technique to train the mind to be focused and relaxed. It's now taking centre stage in the public discourse, with sport champions and business leaders advocating its powerful benefits.
How we can effectively bring mindfulness into the office space? We discuss it with Rasmus Hougaard, Founder and Director of The Potential Project, leading global provider of organisational programmes based on mindfulness.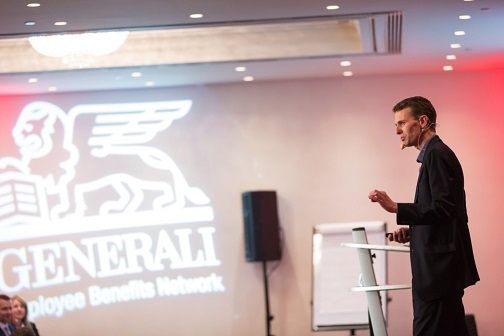 ​
Rasmus attended as keynote speaker the GEB Forum, and he offers here more information on the insight he shared with all attendees during the event.
Why are organisations investing in mindfulness?
In today's labour market, our working lives tend to be constantly on. People feel under pressure juggling every day among tons of distractions (emails, messages, calls…). As a results, our ability to pay attention is declining.
46.9% of the time (almost half of our time) the average worker is not paying attention. This lost time is a concern for employers.
"A mindful organisation is an organisation where individuals and teams do the right things, not just things"
We have been working with the vast majority of Fortune 500 companies around the world. Their main need is to enhance effectiveness and performance.
What are the main needs of your clients?
Applying mindfulness in a business context can help them by impacting employees' ability to channel attention in a more focused and purposeful manner.
Research is finding that people engaging in mindfulness practices at work are getting more  focused and acquire stronger collaboration skills and ability to prioritise, higher productivity, better work-life balance, and declining stress.
Can you explain how to apply mindfulness at work step-by-step?
Our typical training involves three main stages.
1. Focus and awareness: At first we build the foundation, by teaching essential mindfulness practices to increase focus and awareness. The goal is to learn how to focus the mind and develop an awareness of yourself and what is going on around you .
2. Mental strategies: Secondly, we enable employees to build on this and get to change their neurological patterns of behaviour: learning to be more patient, to be more kind, to have more creativity.
3. Daily work: The last step is dedicated to practical application of these skills on typical office tasks, such as dealing with emails, managing meetings, setting priorities, in our communications and so on.
"I have slowed down, but get more done"
"We are becoming better human beings"
How can companies measure the benefits and the results of their investment in mindfulness?
It is very important to approach mindfulness in a scientific and corporate way. Apart from mounting research on the benefits on our brain and health, we have established partnerships with leading research organisations to shed light on the impact on organisational performance.
Research is key to creating the business case for mindfulness at work, by enabling companies to measure results and assess the benefits of implementing such initiatives.
It is particular important when getting started: companies can define a pilot initiative that can be evaluated as a basis to scale up the initiative.
Example of Evaluation results from a global law firm lawyers and partners:
45% increased focus
35% improved effectiveness
34% better work-life balance
17% more engagement
35% decreased stress and
18% decreased multitasking.
Based on your experience, what are the mistakes to avoid?
I would say to not start without making sure that leaders are fully on board. Secondly, I would recommend defining a programme that is aligned to the corporate culture and the company's objectives, and not just to run any meditation course disconnected from the job reality. This would help overcome resistance within the company.
Is mindfulness at work about to replace traditional meditation practices?
Absolutely not, they are not in contradiction but rather complementary. Of course it is essential to learn to meditate but we can add value by applying meditation to the way we are working, our daily lives and the little events we go through every day at  the office that could make us stressed and angry.
Additional Sources
Articles:
Unleashing performance and wellbeing through mindfulness, Rasmus Hougaard and Manish Chopra